Shopping Cart
Your Cart is Empty
Thank you for your business!
You should be receiving an order confirmation from Paypal shortly.
Exit Shopping Cart
History of the O'Haren Clan
O'Haren Clan
Clann Ahearn originates as a branch of the Dalcassian group of Thomond. The eponymous ancestor Echtigern was an older brother of the Ard Ri Brian Boru who was killed at the battle of Clontarf in 23 April 2014 AD on the paschal feast of Good Friday. Echtigern and his brother Doncuan were both killed in 948 AD on the orders of the Ard Ri Congalach Choghba of the Southern Ui Neill ruling at Tara.
Several branches of the sept have been identified in early Irish records.
In the Book of Munster, An Leabhar Muimhneach translated in 1703 by Rev. Eugene O'Keefe, it is related that Eichthigheirn mac Cennetig had three sons, Flann who became the ancestor of Clann McCraith, Conghal who became the ancestor of McConnell (now rare), and Cionnath who became the ancestor of O'Quirke. The blazons for McGrath and O'Quirke are displayed below.
Burke's General Armory notes that Simon O'Haugherne, son of William O'Haugherne, Esq. of Carrigarry, was allowed a coat of arms by Hawkins in the year 1775. The shield and crest are the same as O'Heren of Kerry (see below), except that the three herons on the shield and the pelican on the crest are the color of or (gold) while the nest remains "proper". This Simon may have been a grandson of Symon O'Hougherne who served under King James II. For O'Hearn of Hearnsbrook in County Galway beginning in the 17th century:
http://burkeseastgalway.com/hearne-of-hearnsbrook/
(Added September 25, 2020)
DNA Test - UPDATE 2015
Y-DNA results for Michael O'Hearn of California USA are haplogroup R1b, SNPs M269+ & L226+ and therefore Irish Type III, the southwest Ireland type which also includes the male line O'Brien descendants of Ard Ri Brian Boru.
Place names Ballyharran aka Ballaharran (Ballyharron) near Crossabeg in County Wexford is in Irish Bealach-Ui-hEaghrain [-harran], O'Harran's or Harran's road. This however belongs to a different sept.
P.W. Joyce "Irish Names of Places" (Dublin 1913)
More recently, the American baseball professional Dan Haren.
UPDATE 2019 (1)
A Y-DNA match was found with a Hanrahan descendant now living in Australia, going back to North County Clare. There is also records of O'Briens in the same area of Munster, near the traditional location of the O'Hanrahans.
More recently, a deep clade origin match was found with Ahern of County Cork with time to MRCA at about 1350 AD. Also, a match with Ahearn at about 1650 AD.
Links:
https://en.m.wikipedia.org/wiki/Dan_Haren
Another paternally related Irish family of Pavey/Peavey etc. descends from Joseph Pavey, a victualler or restauranteur who was one of the first settlers in the Georgia colony arriving there in 1736. He was apparently a son or otherwise related to John Pavy of Maryland colony, and married Jane Dyall a daughter of John Dyall in Delaware before settling in Georgia. John Pavy was in service on the estate of Robert Smith, with the Talbot Company in Talbot County, Maryland colony in 1666. Male line descendants of John Peach (1638-1692) of Symondsbury, Bridgport, Dorset, England are apparently also of this type.
Could their name derive from the Pavee folk of Irish and Scottish Travellers?
UPDATE 2019 (2)
Recently, Michael O'Hearn of this site discovered his Y-DNA group deriving from SNP DC38/39. This is within the R-L226 type commonly called Irish Type III. However, this particular group apparently descends genetically from the Ard Ri Brian Boru as mentioned above, and to have been added to the Ahearn family line sometime after 1300 AD, not surprising as the Ahearn chief often fostered one or more of the young O'Brien heirs in medieval times.
Along these lines, 17th century London merchant William Hearne traded with the North American Indians and some of his descendants settled in colonial Maryland and Delaware. They are also within the R-L226 type and are more closely similar to the Y-DNA of several McGrath, etc. descendants. Echtigen's son Floinn was father of Magrath, indicating that they all descend lineally from Echtigern mac Cinneidi who was killed along with his brother Donncuan in 948 AD.
UPDATE 2020
The DNA matches for my O'Hearn branch actually are primarily with Ahearn and Ahern of County Cork, Ireland.
In the block tree, this appears to be separate from the branches of O'Brien, and descendants of Donncuan including separately Casey and Kennedy. Mathain may be included with descendants O'Mahoney and McMahon, but this appears to be more distant in the block tree. These would then be all descended from Cenneidi's four sons Echtigern, Donncuan, Mathain and Brian. Another son Anluan has descendants as recorded in O'Hart's "Irish Pedigrees".
O'Brien of Thomond blazon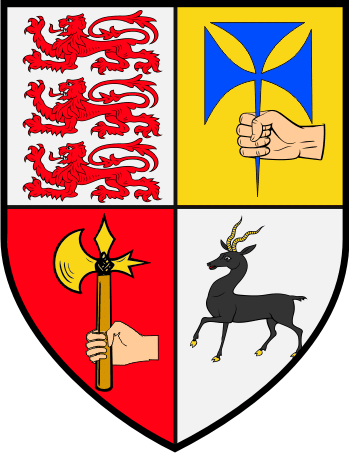 /